What is the Content Bootcamp? 
We work with you to create and schedule a month's worth of professional social media content in advance! By the end of the course, you'll have a bespoke content framework, an understanding of the technical side of Instagram and a bank of ideas that you can use going forward – leaving you more time to focus on running your business. 

This is for you if:
You need the motivation to get posting on your socials

You are approaching a busy time of the year and need to get organised now so that you can relieve some of the time pressures

You want to take a holiday but you don't want your business to go dark on social

You want to improve your social media skills and learn to create posts that convert!
How does it work?
Part 1. Workshop 
We begin with a 1.5-hour online workshop where we guide you through creating a content strategy framework that is tailored to your business and social media goals. You'll be full of content ideas by the end of the call.  
The recording of the live workshop will be available for 2 weeks, so don't worry if you can't make it live.
Part 2. 1:1 sessions 
Over 3 weeks, you will have 3 x 40-minute 1:1 online sessions with us.  During these sessions, we'll take a deep dive into the posts you have created after the workshop and will optimise them together to ensure they are working hard to achieve your objectives.  
You'll learn about setting goals for each post, how to capture the attention of your ideal customer with interesting or 'edutaining' content, and all the techy bits in between!
By the end of our 3rd session, you'll be putting the finishing touches to your scheduled content!
Hashtag Workshop
Hashtags are the feature of Instagram we get asked about the most. So for this round of the Content Bootcamp, we are including access to our Hashtag Masterclass which will tell you the what why and how of hashtags plus we will answer all of your questions.
Why Work with Us? 
We have been managing social media accounts across different niches for the last 5 years. We are on the platforms all day, every day and bring this professional experience to each session with you so that you get the most out of your social media marketing. 
You don't have to be techy, our training is friendly and fun and we avoid using jargon at all times!
Here's the lowdown –
⭐️ 1.5-hour workshop
⭐️ 3 x 1:1 40-minute sessions with us working on your business
⭐️ Hashtag Masterclass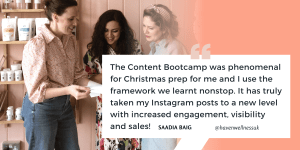 FAQ
Q. I want to do the course but can't afford the investment in one payment, can I pay for it in 2 instalments?
A. Yes! This is no problem. Please email us and we would be happy to arrange this with you. Our email is hello@socialstylepro.co.uk
Q. Can I use the content strategy for other social media channels?
A. Yes. We will focus on optimising the content and using a scheduler for Instagram but the theory does translate to other social media platforms.
Q. Will I get the recordings of the 1:1 calls?  
A. Recordings are not included but can be purchased for £45 per call.
Q. Can I sign up now but start the course later? 
A. No, this course is designed as a live training course throughout June. To get the most out of the course, you need to be able to give us up to 1 hour online each week plus a little extra time in between sessions.  Working with us directly with accountability between each session will ensure that you achieve your end goal, which is to get into the habit of creating scheduled content.
Q. Will I need to pay for the scheduler? 
A. No, we would advise you to sign up for a free account first so that you can familiarise yourself with the scheduler during our training. Details of the scheduler will be shared in your introduction email. 

Tap HERE to register your interest